Vehicle fleet
caring for the reliability of service
The fleet of Bap Polska Sp z o.o. consists of modern and eco-friendly tractor units and specialized semi-trailers and refrigerated trailers equipped with the LATEST GENERATION OF ENGINES and a remote temperature control system of the transported cargo.
Our fleet includes vehicles from the leading DAF and Mercedes brands with the EURO 6 emission standard.
Having in mind the safety of goods and transport, all our vehicles are equipped with a GPS system that allows ongoing contact with the driver and control over the current location of the fleet and cargo. To ensure quality of service, our cars are also equipped with temperature sensors and door opening sensors.
We offer modern and eco-friendly tractor units from Mercedes, DAF and VOLVO with refrigerated trailers from Schmitz SKO 24/L 13.4 FP 45 COOL with space for 33 pallets and 66 pallets in double loading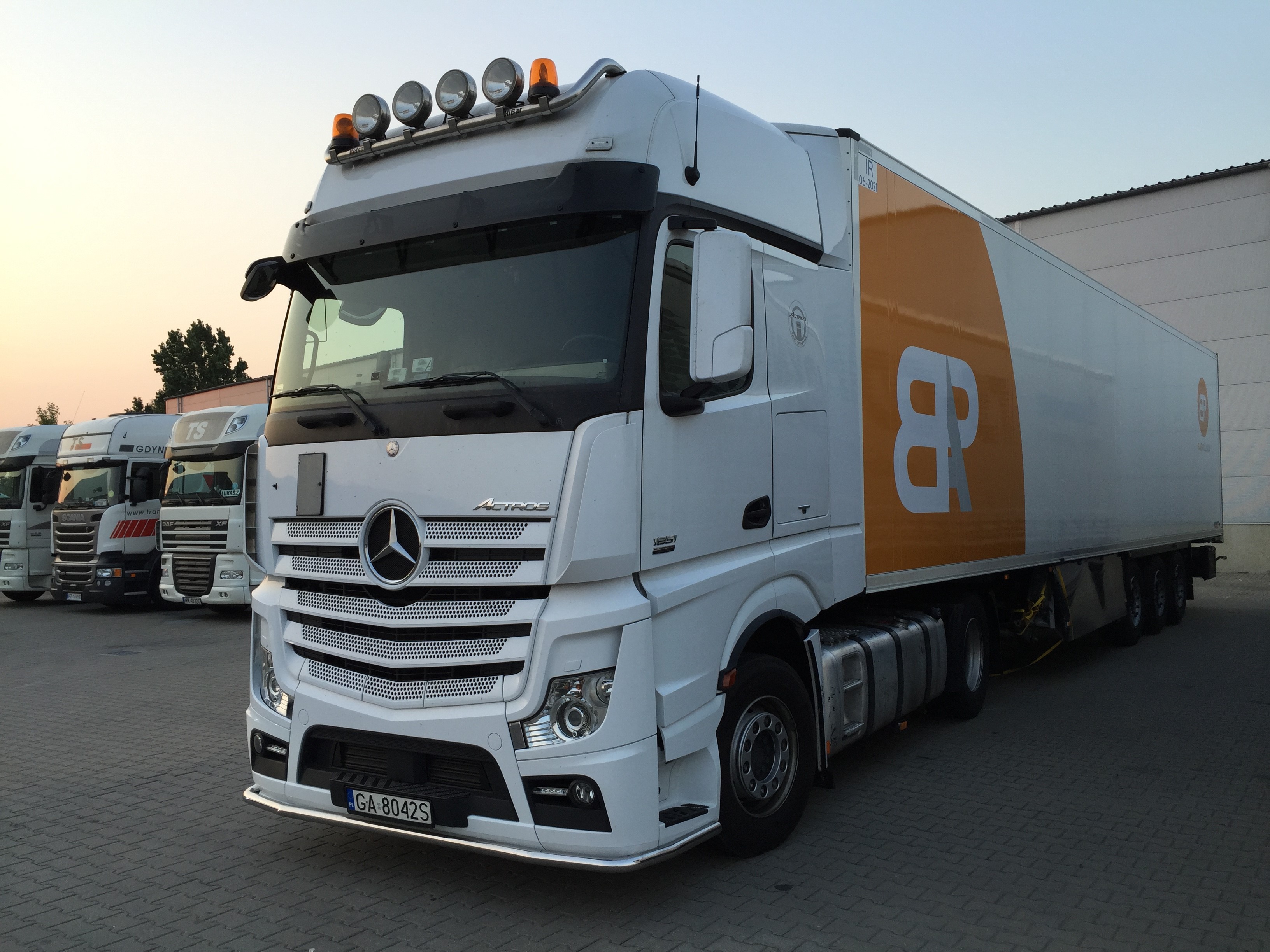 We equipped our tractor units with, among other things:
GigaSpace cab

375 kW (510 hp) engine
Axle configuration: 4×2
FleetBoard DispoPilot.guide 2
Fleetboard Truck Data Center 6 (DTCO)
Air conditioning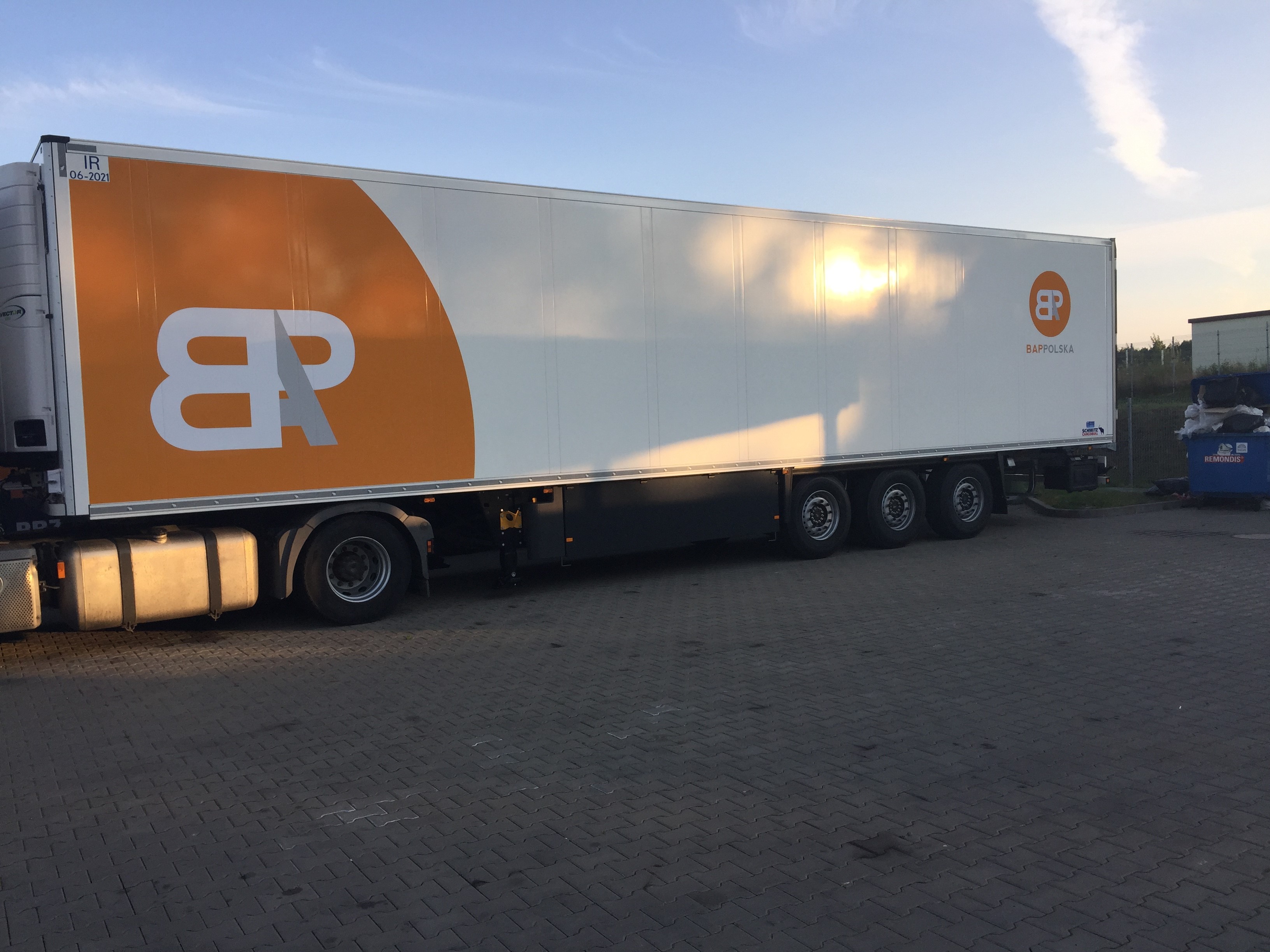 Specification of our trailers:
Internal height: 2.70 m

Internal length: 13.410m
The width of the trailer: 2.60m
Additional equipment
Our trailers are also equipped with:
Euroscan temperature recorder with a built-in printer

Ventilation flaps next to the refrigeration unit

Carrier VECTOR 1550 refrigeration unit with internal combustion engines and electric motors that guarantee the required temperature during land, sea and rail transport

ATP-FRC certificate

Circulation wall with a pallet buffer

Circulation profiles

Flexible ventilation ducts

Longitudinally adjustable, insulated transverse partition wall

Multi-temperature versions / ceiling evaporators

Two-level loading system

Rails securing the load in the side wall

Additional skirting

FERROPLAST® rear panel

Car door rubber strip across the whole height

Aluminium floors

Ferry equipment / shackles

Adjustments for loading and transport by rail

SAF® chassis with a large 22.5 brake disc ventilated from the inside

Double automatic lifting and lowering of the axles

Fire extinguishers in a plastic container at the chassis or at the lifting and supporting mechanism

TIR customs accepted seal

Diesel fuel tank made of plastic with a locking fuel cap

Boxes for 36 euro pallets in front of the axial unit with varnished covers

Back-up alarm
Contact us
and learn everything
0048 58 688 85 50

+48 734 489 144
+48 600 447 503
FAX: 0048 58 765 14 37
BAP POLSKA SP Z O. O.
ul. Redłowska 52/9
81-450 Gdynia
NIP: 5862249591